Community Outreach
The LeRoy W. Homer Jr. Foundation was on hand at the Evesham Fall Festival enjoying the beautiful weather with our NJ community! Jane Oswari & Digna Yeregui took the opportunity to talk to local youth about aviation and our scholarship program. Pictured below our foundation merchandise for sale (available on our website) and the raffle items for this event.
The LeRoy W. Homer Jr. Foundation was on hand for the 26th Annual AIRFEST at the Naval Air Station Wildwood Aviation Museum. Digna and Juan Yeregui represented the foundation with a table full of items from our online shop and answered questions about LeRoy and our flight training scholarship.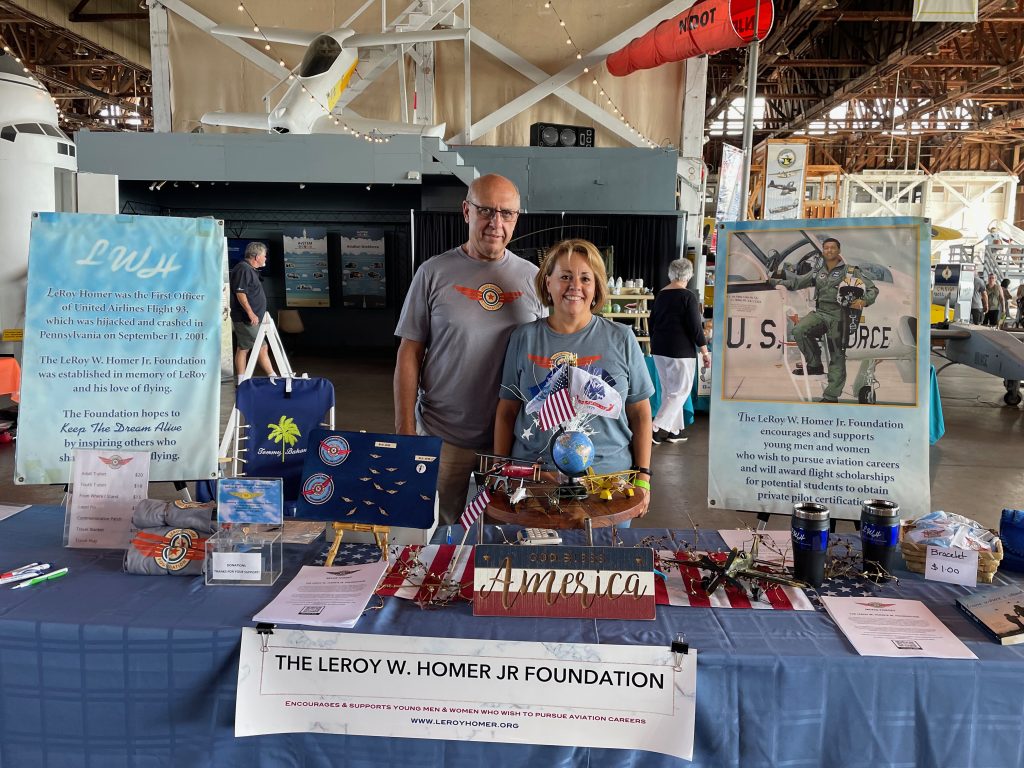 The LeRoy W. Homer Jr. Foundation participated in the 10th Anniversary of the Smithsonian Institute's Heritage Family Day series attending the African American Pioneers in Aviation and Space Day at the Steven F. Udvar-Hazy Center. Melodie Homer, Christina Lee and Brian Florence shared the legacy of Major LeRoy W. Homer Jr. and answered questions about his namesake memorial foundation and how the next generation of young people can become pilots.
The LeRoy W. Homer Jr. Foundation's outreach program is currently available for disadvantaged schools in New Jersey. The program "A Pilot You May Be" was introduced to nine schools, reaching over 1100 children ages 7 – 10. The Foundation also participated in the Read Across America program by encouraging supporters to contact their local schools on behalf of The LeRoy W. Homer Jr. Foundation and read the children's book "Amelia and Eleanor Take A Ride", a book based on a true story about a flight that Eleanor Roosevelt and Amelia Earhart shared. Both programs were well received with requests coming for us to visit again this school year. A big thanks to Teresa Villarreal at Catavia Kids (www.cataviakids.com) for providing the Black Box CD Rom utilized in the program.