Past Recipients
Past Scholarship Recipients
2003 – Michael Scott
Mike received a scholarship in 2003.  He graduated from the US Naval Academy in 2008 with a degree in Political Science and was selected for Navy pilot training.  Mike finished Navy flight training in jets and winged as a Naval Aviator in October 2010. He completed a three-year sea tour flying the F/A-18E Super Hornet with the VFA-105 Gunslingers out of NAS Oceana, VA.  While assigned to the Gunslingers, he deployed on the USS Harry S Truman to the Middle East and flew combat missions in support of Operation Enduring Freedom in Afghanistan.  He is currently a Lieutenant and an instructor pilot with the Gladiators of VFA-106, teaching students in all variants of the F/A-18 Hornet and Super Hornet.
2003- Richard Valenta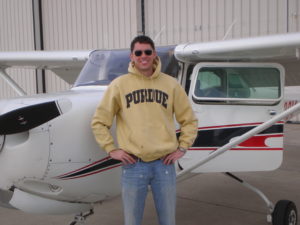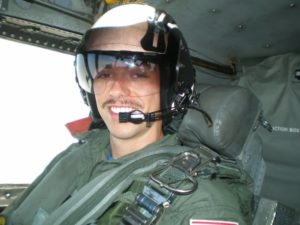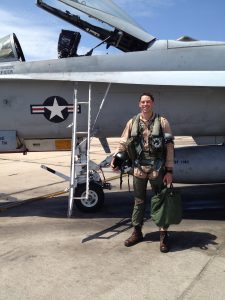 Richard attended Purdue University, graduating in 2009 with a degree in Aeronautical/Astronautical Engineering.  He was commissioned into the US Navy, went to flight school in Corpus Christi, Texas and earned his wings in March of 2012. Richard then attended FA-18 replacement pilot training in San Diego, CA and graduated from there in April of 2014. He is currently assigned to NAS Lemoore, CA as a fleet FA-18 pilot. In addition to flying Hornets, Richard achieved his airline transport pilot certificate and continues to fly general aviation in his spare time.
Sarah graduated Summa Cum Laude from San Jose University's College of Engineering with a degree in Aviation, Flight Operations and a minor in Business in 2006.  After working at NASA Ames Research Center and three general aviation airports in the San Fransisco Bay area, she was hired by Mesa Airlines.  She flew as a First Officer on the Dash 8 out of Denver, CO.  After she was furloughed, Sarah was awarded an Active Duty Pilot slot with the United States Air Force, through their Officer Training School program where she was a distinguished graduate.   She completed military undergraduate pilot training with the highest academic honors in her class and was assigned to fly the RC-135 Rivet Joint out of Offutt AFB, NE.  She has since deployed to the Middle East and to Europe.  More recently, Sarah earned her Masters Degree in Economics from the University of Oklahoma as well as her civilian Airline Transport Pilot rating, while 8 months pregnant.
2004 – Michael Hames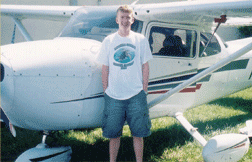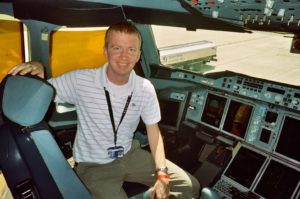 Michael Hames graduated from the Florida Institute of Technology in 2008 with a degree in Aviation Management with Flight.  Michael currently works in the Airport Operations at General Mitchell International Airport,while maintaining his commercial, multi-engine and other flight ratings.
2004 – Brittany Albers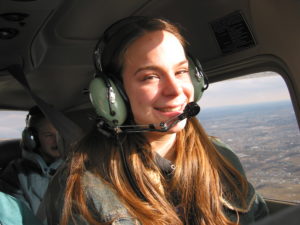 Brittany Albers graduated with an accounting degree from Judson University.  Although Brittany did not pursue an aviation career, she continues to fly as a private pilot.
2005 – Ryan Wright
Ryan Wright graduated from Bowling Green State University in 2009 with a B.S. Aeronautical Studies.  He served his country for nearly six years in the US Marine Corps where he flew the T-34C Turbo Mentor and T-45C Goshawk. Ryan additionally held Secondary Military Occupational Specialty (MOS) / Collateral Billet / Aircraft Maintenance Officer for UH-1Y and AH-1W Helicopters. In 2015 he completed his Master's Degree from Embry-Riddle Aeronautical University – Worldwide / Master of Aeronautical Science (MAS) specializing in Aviation/Airport Management. Ryan is a Certified Flight Instructor/Gold Seal and ATP with type ratings for the A320 and Saab 340. and currently flies for Silver Airways LLC out of Tampa, Florida where he lives with wife Danielle, and two loving dogs Sunshine & Shadow. Ryan plans to fly for Delta, Southwest or United Airlines.
2005 – Kevin Carney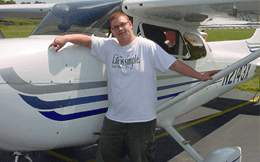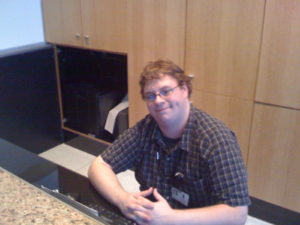 Kevin Carney graduated from Bridgewater State College in Aviation Science in 2008.  He currently works as a crew scheduler at American Eagles Airlines and is currently involved in the process to update those functions to comply with the FAR 117 changes.
2006- Courtney Vidt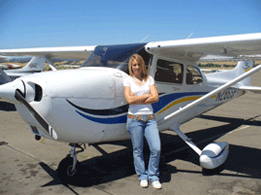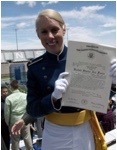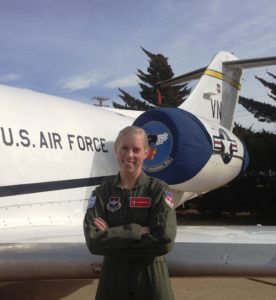 Courtney Vidt received a scholarship in 2006. She graduated from the US Air Force Academy in 2011, where she followed in Leroy's footsteps and was a Soaring Instructor Pilot for the Academy's glider program. Courtney attended Undergraduate Pilot Training (UPT) at Vance AFB, in Oklahoma and received her Pilot Wings in February 2013. She was selected to become a First Assignment Instructor Pilot (FAIP) in the T-1A Jayhawk, instructing students who will go on and fly airlift and tanker aircraft.  Courtney recently pinned on Captain and is currently the Executive Officer for the 71st Operations Group while also instructing with the 3 FTS.  She is an active member of various aviation related organizations including the Daedalians and Red River Rats, and will find out her follow on assignment fall of 2015.
2007 – Julie Falsken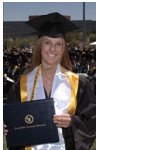 Julie Falsken graduated from Embry Riddle Aeronautical University with degrees in Aviation Business Administration and Aeronautics and minors in Aviation Safety and Air Traffic Control. Julie holds her private glider, single-engine, multi-engine and instrument ratings and still enjoys flying for fun. She currently works at Boeing in Flight Test Operations as a Project Manager supporting current and future Commercial Flight Test Programs. Julie is also working on completing her Master's Degree in Logistics and Supply Chain Management through Embry Riddle Aeronautical University – Worldwide Campus.
Brittany Smith graduated Embry-Riddle Aeronautical University, majoring in Aeronautical Science with a concentration in Airline Pilot and minors in Air Traffic Control and Business Administration. She interned with American Airlines in the Flight Operations Department and learned about air carrier operations. Brittany is currently working at ExpressJet Airlines as a Crew Scheduling Supervisor in the OSC. Currently, she is planning for her wedding in October and plans to get back in the air soon. .
2009 – Joshua Mech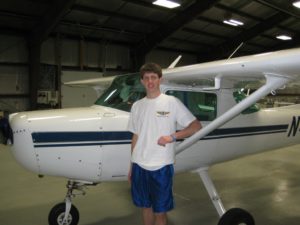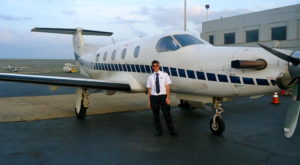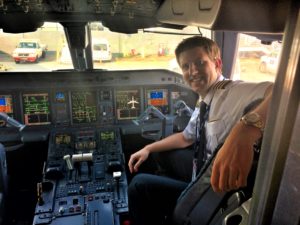 Josh Mech graduated Southern Illinois University with a degree in Aviation Flight and Aviation Management in 2012 completing the four year program in only 2 1/2 years. Josh worked as a CFI for SIU while completing his degree. He has flown for SeaPort Airlines to fly both the Pilatus PC-12/45 and Cessna Caravan. In August 2013, Josh became the youngest captain in SeaPort history. He has since flown for ExpressJet and Compass Airlines on the Embraer 175 regional jet. Josh recently began flying for Delta Airlines. Josh was a NIFA competitor and he continues to enjoy instructing flight students on the side when he has time.
2010 – Michael Hull
Michael Hull graduated Middle Georgia College's Aviation campus earning a business degree in Aviation Management. He is a Certified Flight Instructor training to obtain his Instrument CFI certificate. Michael presently flies C-17 for the U.S. Air Force.
 2011 – Vishra Patel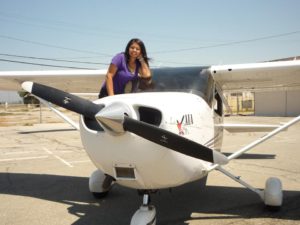 Vishra Patel recently graduated Embry-Riddle Aeronautical University (Prescott) with degrees in Aviation Business Administration and Global Business with a minor in Economics. She earned her private pilot license at the age of 17. Her studies with ERAU included international study in Paris and Singapore. Vishra is currently seeking opportunities in marketing and sales, airport operations and planning while completing a graduate degree at ERAU Daytona Beach.
Rick completed his PPL, graduated from Eagle Valley High School and recently graduated Metropolitan State University in Denver to major in Aviation and Aerospace Management with a minor in Business. Rick has been working toward completing his instrument rating and flies when he gets the chance.
2013 – Nathan Sanders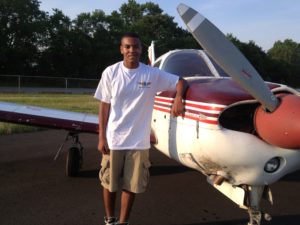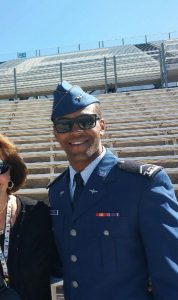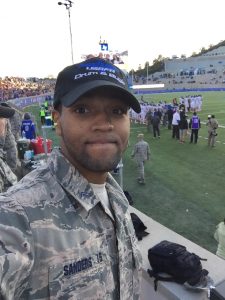 Nathan completed his Private Pilot License on August 27th, LeRoy's birthday. Nathan is currently a Cadet Second Class at the United States Air Force Academy where he is a member of the Cadet Drum and Bugle Corps.
Jose completed his Private Pilot License in April 2015, attended the USAFA Prep School and is presently attending the United States Air Force Academy.
Brody passed his Private Pilot checkride on his 18th birthday! He recently completed his instrument rating, nearly two years to the date of his first flight. Brody is an Aviation Flight & Management major at Southern Illinois University Carbondale and member of the Flying Salukis, SIU's flight team. Last year the team came in 2nd place at NIFA's national competition. This past summer Brody was an Airport Operations Intern with United Airlines at O'Hare International Airport.
2016 – Niyah Harris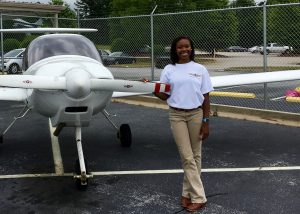 Niyah passed her Private Pilot check ride in February and graduates high school this spring! She continues to be very active in multiple aviation organizations and plans to attend college this coming fall. Stay tuned for more updates and be sure to read her blog on Facebook!
2017 – Layton Howerton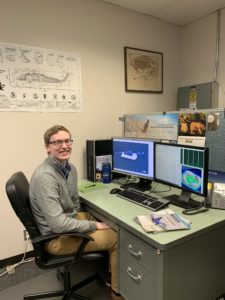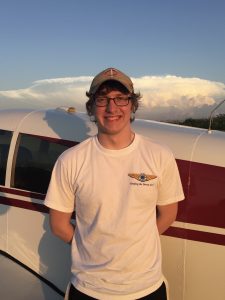 Layton passed his private pilot checkride in August 2017, and received his drone pilot certification in December 2017.  He is currently attending Iowa State University and is studying Aerospace Engineering. During the Spring 2019 Semester, Layton worked as an intern with the Rotorcraft Aeromechanics Branch at NASA Ames Research Center. He will begin a Civil Servant Pathway Program at NASA Glenn Research Center during the Summer of 2019.
2018 – London Holmes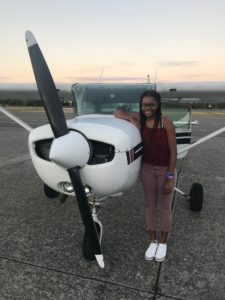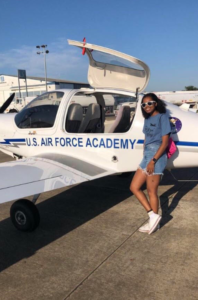 London completed her private pilot license June 2nd! Since receiving the LeRoy Homer scholarship London has enrolled in the after school Aeronautical Science Pathway program at the Museum of Flight where she is earning an additional 6 credits toward high school and 60 college credits in aviation. She was selected to attend this years USAFA Summer Seminar program, and recently selected to do a Media Interview with the Director of Communications at Alaska Airlines for their annual Aviation Day Event. London also received notification from Boeing that she was selected for their summer internship position. She will be working in their P-8 Airframe Structures department. She is grateful for the doors this foundation is opening for her and excited to be in the LeRoy W. Homer Jr. Foundation family which continues to offer guidance, support, and lots of encouragement.
2018 – Angelo Cervantes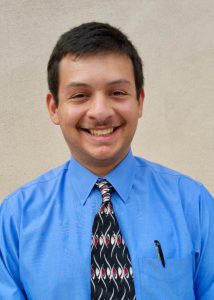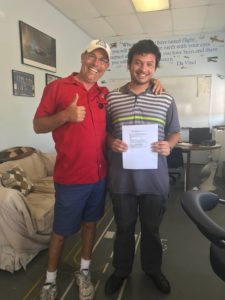 Angelo passed his private pilot checkride in August 2018 and began studies at Arizona State University last fall. Angelo is interested in completing his glider and instrument ratings and would like to fly tow plane for his local sailplane base where his flying adventures began.
2019 – Karsten Brown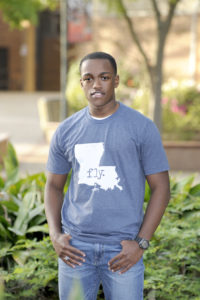 Karsten Brown is a 2019 graduate of Catholic High School in Baton Rouge, Louisiana. He is a member of numerous organizations including National Honor Society, Student Ambassadors and the Bruin Marching Band, where he has been a percussionist for the past four years. Karsten is heavily involved in community outreach and enjoys mentoring youth and participating in aviation outreach programs with The New Orleans Golden Eagles. He presently attends the United States Air Force Academy majoring in Aeronautical Engineering. His goal is to become a United States Air Force Pilot. Karsten completed his private pilot certification prior to admission to USAFA and is a member of the class of 2023.   
2019 – Grace Rames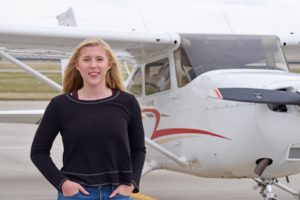 Grace Rames is a 2020 Graduate of Dilworth-Glyndon-Felton High School in Glyndon, MN. She received the Wright Brothers Award in Civil Air Patrol, is a member of National Honor Society and a Minnesota State Speech finalist. She represented her school at the American Legion Auxiliary Minnesota Girls State. Last summer she had the privilege of attending the National Flight Academy in Pensacola, FL and the North Dakota International Aerospace Camp at University of North Dakota. She volunteers at the Fargo Air Museum and is honored to be a LeRoy W. Homer Jr. Foundation Flight Training recipient. Grace completed her private pilot certification last fall and will attend the University of North Dakota as a member of the class of 2024.