Our first ever podcast episode!
Have you ever been on a podcast? We thought we would give it a try and continue our work to spread the word about The LeRoy W. Homer Jr. Foundation and the flight scholarship!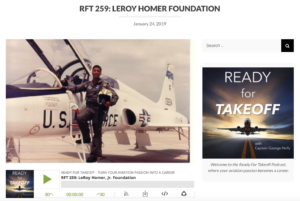 Click here to listen to our visit with Captain George Nolly, as we explain the work we do to help future young aviators achieve the first step in their aviation dream: The Private Pilot Certification. As a reminder, the application window closes January 31st. Get those applications in the mail!