Focusing On Future Horizons
The LeRoy W. Homer Jr. Foundation recently selected its 19th scholarship recipient and hopefully you heard the news on one of the many communication platforms we use these days. Technology is always advancing. Looking back over more than a decade, it is amazing to see the evolution in how we communicate and interact with our supporters, donors, former scholarship recipients and applicants. We have always maintained a website and send out two newsletters annually to share recent news and activity. In the past year we have ventured forward into popular social media formats to include Instagram, Twitter and LinkedIn. We revamped our Facebook presence and shifted from a private group format to a public Facebook Page giving us better tools and metrics to benefit from social media. The website was refreshed last year as well, and our new platform is updated, fresh and more useful on multiple device types leveraging reflexive technology.
The visions of our future generation of aviators are also forward focused – not only sharing their dreams of flying aircraft in the familiar worlds of general aviation, commercial transportation and military operations but also including plans for flying unmanned vehicles across a wide landscape of uses. The essay sections from this year's applicants described a wide variety of visions for where (and how) the next generation dreams of flight. We share their interest in participating in the ever evolving world of flying and one constant remains – it all starts with that dream. The dream to fly. To be a pilot.
We recently released our first public service announcement, our message to promote the LeRoy W. Homer Jr. Foundation. It was another innovative project that began with a Kickstarter campaign and the participation of many of our former scholarship recipients. Through the kind support and funding of more than 50 donors, we were able to assemble two teams of prior scholarship recipients in Chicago and Denver, to produce a clear and representative message of who we are and what we do by those who know first hand. We hope you'll check it out in the website media gallery or on any of our social media platforms. The PSA is our latest step forward, honoring our past and embracing our future.
"Focusing on Future Horizons" was the theme selected for the Kickstarter PSA project. Hopefully you can see in the work we've shared above how we are looking ahead to the horizon and tracking a steady course forward. With a Commemorative Event planned for this September and a Fundraising event in development for 2018 to welcome our 20th Scholarship Recipient, we remain focused on our mission, focused on our future. Keeping the dream alive.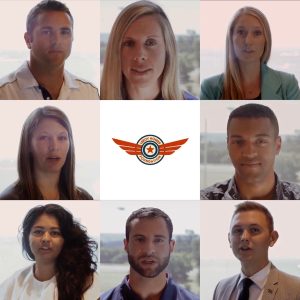 (click image to view our PSA)