Homer Foundation 20th Anniversary Fundraiser Event @ FAME Philly!
August 28, 2021 @ 6:00 pm

-

10:00 pm

$125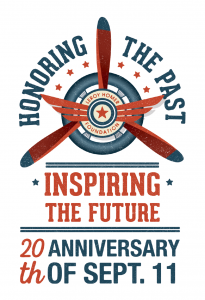 The LeRoy W. Homer Jr. Foundation is excited to announce that we will be hosting an event on Saturday, August 28, 2021 to commemorate the 20th anniversary of the events of September 11, 2001. This special event, Honoring the Past, Inspiring the Future, will recognize LeRoy W. Homer Jr., the First Officer of Flight 93 and the legacy that has been formed in his memory through the LeRoy W. Homer Jr. Foundation. The foundation awards flight scholarships to young adults to obtain their private pilot license. This fundraising event will be held at FAME in Philadelphia, PA and includes an evening of food, cocktails, silent auction, past scholarship recipients and much more. Our guest speaker will be Amy Weinstein, Senior Curator of Oral History & VP of Collections National Sept 11 Memorial & Museum. Amy is Senior Curator of Oral History and VP of Collections and has been recording oral histories with 9/11 responders, survivors, family members, journalists, artists, and others affected by the terrorist attacks for the past 15 years. She holds diverse curatorial responsibilities related to the acquisition and interpretation of artifacts for the Museum and has participated in the curation of temporary exhibitions including K-9 Courage and Hope at Ground Zero. In her presentation she will explore the Memorial & Museum, and share insights into its collection of objects and oral histories. We are excited to have her at our event.
Join us in remembering and honoring those who were lost but also to reflect on how LeRoy's memory has inspired a new generation of aviators. We continue to grow the legacy of Major LeRoy W. Homer Jr. as we gather to share our memories, our stories and the 27 scholarship recipient stories that have grown from the past two decades.